Alex Oxlade-Chamberlain reveals why he chose Liverpool over Chelsea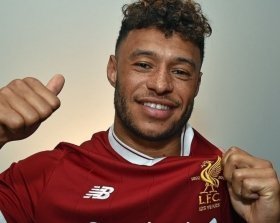 England international

Alex Oxlade-Chamberlain

has revealed the key reason as to why he left Arsenal for Liverpool on transfer deadline day. The attacker snubbed advances from league champions Chelsea to pursue a switch to Merseyside.
The Gunners had accepted a transfer offer from the Blues for Oxlade-Chamberlain during the summer transfer window, but he opted to turn them down for a £35m move to Liverpool.

Speaking about his transfer, Oxlade-Chamberlain admitted he wanted to progress further under his new manager while trying to get out of his comfort zone at his former club.

"I want to get more out of myself, I could have stayed at Arsenal and progressed there maybe – you never know what can happen – but I felt the main thing was taking myself out of my comfort zone and really push myself to achieve as much as I can in a team and a position where I want to progress. That's why Liverpool shouted out for me," he said h/t Metro.

The 24-year-old had been playing as a wing-back during the final stages of his Arsenal career, but he is expected to play higher up the field at Liverpool in a central midfield role.