Kevin De Bruyne calm over talks of a Manchester City contract similar to Neymar's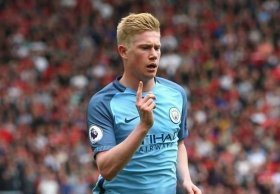 Kevin De Bruyne

's agent, Patrick De Koster, has hinted that he is eyeing up a new 'Neymar and

Kylian Mbappe

like' contract for his client at the Etihad Stadium, while the Belgian himself has revealed that he is remaining patient despite the ongoing talks. 
The 26-year-old is only two years into his six year contract that he put pen to paper on when his £55 million move from VFL Wolfsburg to the Citizens was completed, however, his agent has claimed he has talks planned with the City owners to discuss a higher wage. 

In an interview with Italian Media outlet Radio CRC, he said: "In the coming months I'll meet with City to figure out how to improve and extend his contract."

De Koster, however, refused to state outright the attacking midfielder's demands, but left a subtle hint, he said: "His salary? I cannot say. But if you think what Neymar and Kylian Mbappe are being paid, you can picture."

It is believed that Paris Saint-Germain pay Neymar a remarkable sum of £32 million-a-year.

Although such mega bucks are being discussed, De Bruyne has insisted talks have begun and it is an issue he will remain calm about.

The Ballon D'or nominee has said: "My agent went already one time to Txiki (Begiristain, director of football), moe talks are coming. I'm patient anyway, I don't stress. I think I read something in the press but I have time." 

City boss, Pep Guardiola has branded the Belgium international as 'the best player in Europe bar one', but despite such plaudits the man who has picked up two goals and seven assists in just eleven games this season has potrayed that his feet remain firmly on the ground. 

He said: "I don't care, I have to do the things that I do. In football you are going to have highs and lows and you have to live in the middle. I just like to enjoy my football, that's a big part of me."