Torres: don't blame Rafa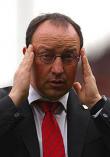 Liverpool striker

Fernando Torres

has called on the media to stop blaming

Rafa Benitez

and his squad rotation policy that has been so successful in the past. Benitez's policy helped win a Champions League title for the Reds.
"When things don't go the way one wishes, people look for things to blame," Torres told The Times. "We have a manager with a philosophy that people knew before he came and one that has succeeded.

"It is very opportunistic to blame rotation for everything that goes wrong. It is not a problem for us. Liverpool have won a Champions League, FA Cup and so on with rotation.

"It is normal to rest. We players never want to, but if the manager says so, you have to. If everybody accepts that is the way forward, the atmosphere doesn't suffer."