Arsenal to offer limited budget to new manager?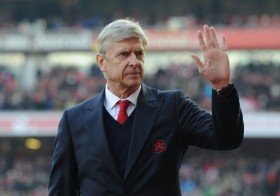 Arsenal's hierarchy will reportedly restrict their next manager to a maximum transfer budget of around £50m for the summer transfer window.
The north London side are expected to recruit a new head coach during the off-season with Arsene Wenger having announced his decision to leave the club in less a month's time.

According to The Telegraph, Wenger's successor is unlikely to have the luxury of a massive budget at the club following record deals in each of the previous two transfer windows.

Meanwhile, the Gunners have also secured long-term contracts for three first-team players in this period and the board don't believe there is a need to drastically transform the squad.

Luis Enrique, formerly of Barcelona, has been touted as the favourite for the Gunners head coach whilst Carlo Ancelotti remains another possible candidate after expressing his interest.

Arsenal entertain Atletico Madrid in the first leg of their Europa League semi-final on Thursday night. The Gunners need to win the competition this campaign in order to assure themselves of Champions League football next term.