Arsene Wenger 'sad' as Arsenal reign comes to an end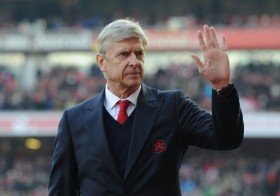 Arsene Wenger

has admitted that he is 'sad' after overseeing his final game as the Arsenal manager on Sunday afternoon. The Gunners picked up a 1-0 triumph over Huddersfield Town in their last game of the campaign and this ensured that they secured their first away points of the calendar year.


Speaking after the game, Wenger was asked whether he was relieved to have ended his Gunners tenure to which he admitted a bit of sadness. The 68-year-old followed up to praise the opposition, who managed to stay up in the penultimate game of their season.

He said: "To enjoy it we had to win it, winning football games is what makes me happy and the boys did it. It was a good day for everyone with Huddersfield staying up too. Do I feel relief? Not really, I'm sad."

Arsenal are expected to announce a new head coach before the summer World Cup in Russia but for now, the supporters can relish the achievements of the club under Wenger.

During the Frenchman's 22-year reign, Arsenal went on to lift three Premier League titles and seven FA Cups. The club also managed to finish in the top four in every season until the 2016/17 campaign.