Arsene Wenger hints at turning down Premier League offers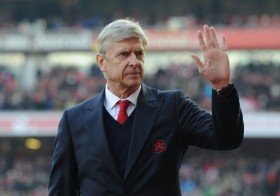 Arsene Wenger

has hinted that he is not ready to face Arsenal with another Premier League club in the near future. The Frenchman brought down the curtains on a 22-year reign with the Gunners following a 1-0 win over Huddersfield Town on Sunday afternoon.


Earlier last week, the 68-year-old confirmed that he has received plenty of managerial offers from both the Premier League and abroad since announcing his departure and Everton, in particular, have been associated with his services of late.

However, speaking after his final game in charge of Arsenal, Wenger admitted that he is not in a position to face the Gunners in the immediate scale and he would 'stay home' if he came against his former side as a manager.

"I'm not ready for that at the moment. That would be very difficult. I think on this day I'd stay at home. I don't know. I don't envisage that at the moment," he is quoted as saying by The Independent.

Arsenal are yet to make any official announcement over Wenger's successor but a decision is likely to be made before the start of the summer World Cup in Russia.