Liverpool sign Fabinho from AS Monaco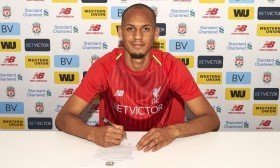 Liverpool have confirmed the signing of highly-rated Brazilian midfielder Fabinho from AS Monaco on a long-term contract.
Earlier this evening, the Reds were said to be close to sealing a £43.7m deal for the 24-year-old and they have now officially confirmed that he will join them on July 1.

"I am really excited about this move. This is something that I always wanted – this is a giant of a team. "A football club of this size coming after my services, I didn't have to think that much about coming over," he told the club's official website.

Fabinho had been linked with almost every top Premier League club over the past year besides Liverpool but Jurgen Klopp's side have been pretty quick to seal an agreement for the former Real Madrid loanee.

The Brazilian will be joined at the club by RB Leipzig's Naby Keita, whom the Reds have a pre-contract agreement with and their arrivals may coincide with the exit of Emre Can this summer.

Can has declined to sign a contract with the Reds over the past 12 months and he has been tipped to leave on a free transfer when his deal expires next month.