Fred speaks on the importance of Tottenham game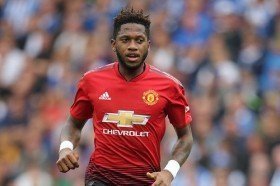 Manchester United midfielder Fred has said that Monday's Premier League game against Tottenham Hotspur is an important one.


United are heading to the game on the back of a calamitous 3-2 loss to Brighton and Hove Albion last weekend.

Fred revealed that Jose Mourinho's men have been working towards ensuring a win in front of home fans at Old Trafford.

"It's a very important game," Fred told Sky Sports. "This week we've been working, focusing on this game, we want to go out and get the win in front of our home fans."

The Brazilian went ahead to praise Spurs, but said that United needed to win in order to aspire for the Premier League title.

He reflected on United's last game against Brighton, saying that Chris Hughton's men were the better side.

Fred featured in United's two opening games of the Premier League season, and he is expected to be in the starting eleven when United face the North London side.