Barcelona's Philippe Coutinho out for up to three weeks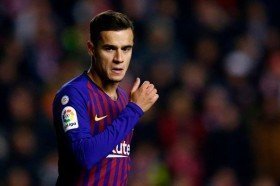 Barcelona have confirmed that attacker

Philippe Coutinho

will be out for up to three weeks with a thigh injury


Mundo Deportivo reports Coutinho finished Barca's 1-1 draw with Inter on Tuesday in some discomfort, initially expecting him to miss just one game.

However, a medical report on the club's official website reads: "Tests carried out this morning confirmed Coutinho had a small tear to the biceps femoris muscle in his left leg.

"His approximate recovery time will be 2-3 weeks."

The Brazilian will now miss the international break, as well as the Blaugrana's match against Real Betis this weekend and possibly clashes with Atletico Madrid and PSV.

Coutinho has scored five goals and assisted four in 16 appearances for Barca this season. He joins Lionel Messi on the sidelines, although the No 10 is closing in on a return from his arm injury.

This could be a major blow for Barcelona as Coutinho has become an integral part of Barcelona's attack. Especially in Messi's absence, he has been sharing the attacking duties with El Pistolero Luis Suarez.