Russian striker says Arsenal scouts were watching him in action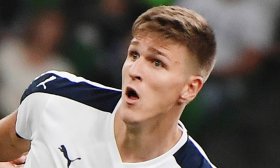 Krylia Sovetov striker

Aleksandr Sobotev

has revealed that Arsenal scouts were in attendance to watch his score during the 2-0 win over Sochi last weekend.
The 22-year-old has been in sparkling form since the beginning of the campaign and he recently netted his ninth and tenth goals of the season against Sochi on the road.

In a report covered by Goal.com, Sobotev dismissed the speculation linking him with Manchester United but stated he would like to play in the Premier League in the future.

He added that the Gunners may have an interest in signing him after monitoring his performance for Krylia at the weekend, he told: "I was told after the Sochi game that Arsenal scouts came to see me. In my opinion this is true. I am not 100 per cent sure, but this is what I was told. They said that the scouts were sitting in the stand."

Arsenal currently have Pierre-Emerick Aubameyang and Alexandre Lacazette as the first-choice strikers in their ranks with the young Gabriel Martinelli acting as the back-up option.

The north London side also have Eddie Nketiah, who is currently excelling with Leeds United on loan and it remains to be seen whether they will make an approach to sign Sobotev in the future.