Pep Guardiola makes surprising claim, says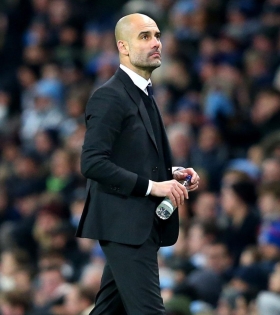 Manchester City boss

Pep Guardiola

made a surprising claim by stating that his Manchester City side are not yet ready to win the Champions League. City have won two consecutive league titles but have not faired as well in the Champions League, being knocked out in the quarter-finals and semi-finals in the past two years. The Citizens currently sit second in the table, and face a monumental task in overtaking Liverpool. 
After City's 2-0 win against Crystal Palace in the Premier League, Guardiola was questioned about his side's performance. The Spaniard went on to say 

"We miss a lot of chances in the final third and we have to do that to be clinical. When the people say about the Champions League being the target, we are still not ready. We create a lot and we don't concede, but we can still improve. We are a team in the last two seasons who score a lot and create a lot. I don't have doubt about that, but still we have to keep going and work on that."

Guardiola also praised Brazilian striker Gabriel Jesus, saying "He [Jesus] will have a long career and with his mentality always he will have success. He is hungry, he will become an important striker around the world and we are lucky to have him." 

City have struggled with injuries this season and already lost to the likes of Wolves and Norwich. Their season so far has been the opposite of the nearly invincible City side of the last two years. However, there is no doubt that they possess the quality to retain their title.