Can Liverpool Take the English Premier League Lead to the Wire?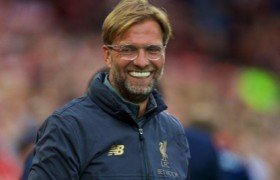 Only eight games in and the English Premier League already looks won. Liverpool, the European champions and last season's EPL runners up have a 100 percent record after collecting maximum points in their opening fixtures.
The Reds have opened up an 8-point gap, the biggest in the division after such a short period.

This follows a remarkable finale which saw them chase eventual champions Manchester City to the wire, coming second with an incredible 97 points, only a point behind City.

The big question, though, can they mount a serious challenge and hold on to the lead to the end? Liverpool finds themselves in quite familiar grounds, where they led City by a similar margin at some point last season, only for City to capitalize on some unwanted draws for Liverpool. Most of the people engaged in the English Premier League betting with Betway have tipped Liverpool to lead the standings till the end this time, but a small figure believes City will hit form and close the gap.

The Factors

Jurgen Klopp has done great in assembling a unified unit at Liverpool, and though he did not get involved in the recent transfer market, it will be seen as a blessing. It is a team of players who know each other, have been together for quite some time and understand what the manager wants. The first game of the season against Norwich City saw top keeper Alisson go out injured, but newly-acquired Adrian has deputized brilliantly so far.

Secondly, bad luck to opponents is good news for Liverpool. Their greatest rivals yet again will be Manchester City who currently sit second, a point above Arsenal in third, and two above Leicester in fourth. City have already lost 5 points at home, more than they lost at Etihad the whole of last season. Their top players have been sidelined through injuries, most notably, their top French defender Aymeric Laporte. Playmaker and influential midfield maestro Kevin De Bruyne has also struggled with fitness issues, and these are two very important players coach Pep Guardiola will struggle to replace.

Going by the run of events recently, luck has been smiling on the league leaders. Fitness permitting, this looks to be the season Liverpool finally break the 30-year hoodoo and lift the coveted trophy. It can be universally agreed that it is moments like what happened at Sheffield United and Stamford Bridge that make champions. At Sheffield, it took a howler from stopper Dean Henderson to give Liverpool the all-important winner in a 50-50 challenge. At Chelsea, VAR was used to disallow a Chelsea goal that would have stood under different circumstances.

The elusive EPL will be Liverpool's top priority this season after securing the European Championship, Klopp's first trophy, and it is believed that City will go all out for the Champions League trophy this time. Although Klopp has pointed out that they'll go for all cups, it is clear that he desperately wants to deliver the domestic trophy to Anfield.

Finally, other competitors are underperforming, begging the question of whether last season's gap could only get bigger. It was expected that Spurs would mount a serious challenge, but a run of mixed results has nearly pulled them off. Leicester, Arsenal, and a resurgent Chelsea are playing well, but Liverpool look to have broken away. But will they hold on to the end? Liverpool take on fierce rivals Manchester United this Sunday at Old Trafford, and you can bet on the outcome via Betway.