Fabio Capello thinks Allegri should choose Man United over Bayern Munich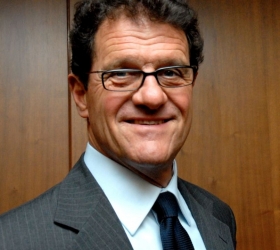 Manchester United are slumping lately as they are in the 10th position in the PL standings. The Red Devils have picked up just 13 points from 11 matches, with only one win in their last 5 games.


Manchester United were handed a 1-0 loss by Bournemouth last weekend and due to this result, the position of head coach Ole Gunnar Solskjaer remains doubtful.

Former Juventus and AC Milan coach Massimiliano Allegri has been rumored to replace Solskjaer if United fail to improve their performance. However, Bayern Munich are also interested to bring in Allegri after sacking Niko Kovac following a 5-1 loss against Frankfurt last weekend.

Former England manager Fabio Capello thinks Massimiliano Allegri should choose Manchester United instead of Bayern Munich. "England's exciting, there's the possibility of working well and the Premier League is a championship that enriches you. If I was Allegri, I'd go to Manchester." Capello said.

Capello, who has also served as AC Milan and Juventus coach in the past, added that Allegri would fit in ideally with the young and talented United squad.