Where next for Jadon Sancho?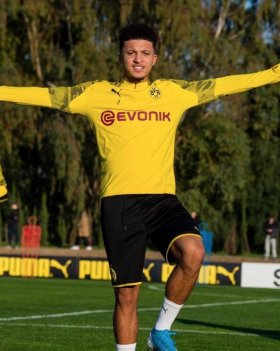 The world's hottest property right now is Borussia Dortmund star

Jadon Sancho

- but with clubs queuing up to snap up the England international - where will his next move be?


Borussia Dortmund have been blessed with one of the best talents to have emerged on the scene in recent years in the signing of Jadon Sancho, who this season could yet win the Bundesliga Player of the Year award after an incredible return of 17 goals and 16 assists.

It has been a remarkable season for the England international, on a wonderful platform to have proved himself in Germany.

Yet, there still remains some unclear challenges for Sancho regarding his future. He has been given an incredible opportunity in the Bundesliga with Dortmund, but at his current team it is unlikely that he will ever challenge for regular honours, due to the scale and size of the Bavarian giants Bayern Munich. Thus if Sancho is to win top honours, he must move elsewhere.

Dortmund have already brought in Jude Bellingham from Birmingham City, but it is unclear whether or not the 17-year-old is an eventual replacement for Sancho or if he is a complimentary player in the same side for the Dortmund side.

In 32 games scoring 17 goals is no easy feat, and Sancho continues to break the records in the Bundesliga. He also continues to impress internationally for England, scoring two goals in 11 full internationals.

However, it appears as if Dortmund may just be a stepping stone for this youngster, who is destined for the very top. But where will he head next?

Manchester United

Linked with a transfer move for Sancho for over 18 months, there is no doubt that United are amongst the top contenders to agree a fee for the player. Despite rumours that the club are unwilling to spend over £50 million for Sancho, there is without a shadow of a doubt that United need a player of Sancho's calibre if the team are to return to the lofty heights of English footballing success. It is a big ask, but it is without a doubt the bookies favourite for Sancho's next move.

Manchester City

Sancho had spent his early years on the books at Man City, who in fact sold the youngster to Dortmund for a fee of around £14 million in 2017. However, City manager Pep Guardiola has recently sold Leroy Sane to Bayern Munich and must now find an eventual replacement. It is not known on what terms Sancho actually left the Etihad Stadium, but one thing is for sure, if there is a club that could afford to sign Sancho in England, City could be the side. Recently City were also reinstated back in to the Champions League, which could certainly boost their hopes in a move to sign Sancho.

Arsenal

Possibly the outsiders here, but Arsenal are about to go on a serious summer rebuilding programme. With uncertainty over the long-term future of Pierre-Emerick Aubameyang, the club must move fast to find a new attacking talent and Sancho could provide that option for the next 10 years. An average start to life for Nicolas Pepe at the club means that Arsenal must decide on how their attack will look next season, with or without their Gabonese star Aubameyang, and Sancho could be the best option.

Barcelona or Real Madrid

The Spanish duo will always be linked with a transfer move for the best footballing talent, and neither team will baulk at a potential £100 million+ transfer fee expected to secure Sancho's prized signature. With Real Madrid having snatched the La Liga title away from Barcelona, you sense the Nou Camp side may now embark on a rebuilding programme of their own this summer and no doubt that Sancho could be one of the names at the very top of their transfer wish list.