Fred makes decision over his Manchester United future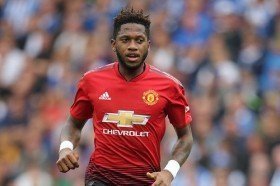 Brazilian midfielder Fred has no plans of leaving Manchester United despite the impending arrival of Donny van de Beek from Ajax.


Van de Beek is expected to join the Red Devils in the near future after he passed a successful medical for his transfer.

With his arrival, Fred's chances of game time are likely to be limited, but Manchester Evening News claims that he is happy to fight for his spot.

It is added that Ole Gunnar Solskjaer is also against the midfielder's exit, given he could use him when there is the occasional need for rotation.

Fred was one of the club's leading midfielders last term as he benefitted with playing time in the injury absence of Paul Pogba and Scott McTominay.

However, he barely started after the COVID-19 break with Solskjaer preferring a midfield trio of Nemanja Matic, Paul Pogba and Bruno Fernandes.

With Van de Beek's arrival, he will further drop down the pecking order and may have to compete with Scott McTominay for minutes off the bench next season.