Low concerns over Ballack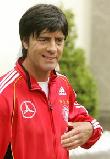 German head coach

Joachim Low

admitted on Tuesday he was surprised midfielder

Michael Ballack

has been omitted from Chelsea's Champions League squad as he continues to recover from an ankle injury.
Ballack had picked up an injury in April playing for Chelsea, and was expected to be returning to action shortly.

But there is concerned amongst the Germans that the English club seem to think Ballack's recovery will take far longer and is eager for an update from the player himself.

"It is a surprise and we are concerned that Michael has been left out of the Champions League squad," Low told German agency SID.

German coach Oliver Bierhoff has claimed that they must get in contact with Ballack and hear from the player directly.

"Of course we are worried," said Bierhoff.

He continued, "I have not been able to get hold of Michael yet. He is the only one who can tell us how his injury is, because all we know is what we have read in the newspaper."