Tomas Soucek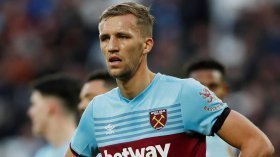 News from around the web
Tomas Soucek spotted walking around barefoot outside London Stadium leaving West Ham fans in hysterics
the top seven of the Premier League in the last two seasons. PLAY DREAM TEAM NOW FOR FREE WITH £100k IN PRIZE MONEY West Ham even made
28/07 11:53
News from Eyefootball
Manchester United have the chance to sign Liverpool midfielder Alex Oxlade-Chamberlain for just £10m this summer.
Arsenal manager Mikel Arteta heaped praise on Martin Odegaard following the 3-3 comeback draw against West Ham United in the Premier League.
Manchester United are reportedly keeping a close watch on the performances of West Ham United midfielder Tomas Soucek.
Barcelona managed to beat Inter Milan 2-1 in the UEFA Champions League, although Inter entered the game with an advantage with respect to fitness. Slavia Prague is the next team to face the Blaugrana in the annual club football competition.