Tomas Soucek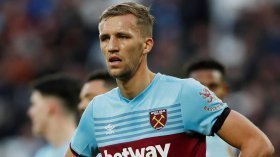 News from around the web

West Ham's Tomas Soucek back to his best after David Moyes makes Declan Rice tactical tweak
this season, particularly as he has now proven he can cut it at Premier League level. The full-back linked up well with Jarrod Bowen down
18/10 08:00




News from Eyefootball

Arsenal manager Mikel Arteta heaped praise on Martin Odegaard following the 3-3 comeback draw against West Ham United in the Premier League.

Manchester United are reportedly keeping a close watch on the performances of West Ham United midfielder Tomas Soucek.

Barcelona managed to beat Inter Milan 2-1 in the UEFA Champions League, although Inter entered the game with an advantage with respect to fitness. Slavia Prague is the next team to face the Blaugrana in the annual club football competition.