Dalglish to keep fighting despite sack talk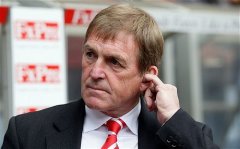 Liverpool manager

Kenny Dalglish

will keep fighting for success for the club, despite facing criticism for this season's exploits in the Premier League. Liverpool slumped to a 1-0 defeat at Anfield against West Brom yesterday.
But Liverpool manager Dalglish remains defiant that he is the right man for the job.


"I was asked to come back here and it was an honour and a privilege to do so. There was no hesitation in my decision, and if I was asked again tomorrow, I would do exactly the same thing," said King Kenny.


"For me, the aim was to move the club forward and that is what we're all trying to do to the best of our ability. But if the progress stops, then ­something else needs to be looked at.


"Where the line is going to be drawn, I don't know. I am sure that everyone will have set different targets that they would see as being progress.


"But the most important people here are the people who own the football club, and the people who support the football club. I think they will be better judges than anyone else.


"I don't know whether winning the Carling Cup and reaching the FA Cup Final means we have been successful.


"People have to judge for themselves and if they still want to batter me that's also up to them.


"It doesn't matter what happens to Kenny Dalglish. All that matters is Liverpool Football Club. As long as this club doesn't suffer, then that's OK with me.


"I'll just come into work every day, work as hard as I can and live up to my responsibilities – and we will see what happens from there."