James Rodriguez to Madrid a done deal?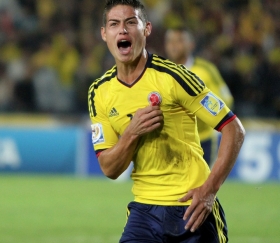 Reigning European Champions Real Madrid have picked up the pace in the transfer market and have reportedly agreed a deal for Colombian

James Rodriguez

.
After buying Toni Kroos on Thursday for a reported $20 million from Bundesliga champions Bayern Munich, reports are floating about that World Cup superstar James Rodriguez has decided to move to Real Madrid from French club Monaco. 

The 23-year-old striker was the Golden Boot winner at the 2014 World Cup in Brazil as he scored six goals in five games for Colombia.

Rodriguez has reportedly agreed to personal terms and Real the fee of $103 million. This would see Monaco make almost $40 million on the deal after they signed Rodriguez from FC Porto last summer.

If Rodriguez arrives at the Santiago Bernabeu this summer, he could play in an attacking midfield role alongside Toni Kroos next season with Cristiano Ronaldo, Gareth Bale and Karem Benzema ahead of them.

Ancelotti is planning to offload Angel Di Maria to fellow French giants PSG this summer which will help them to fund Rodriguez' transfer.