Connor Wickham set for Sunderland exit?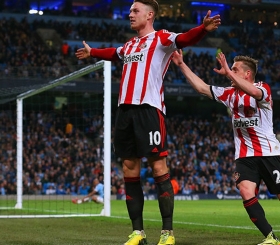 Striker

Connor Wickham

could be heading out of Sunderland on a free transfer. The forward's contract expires in July.
Manager Gus Poyet has been hopeful the youngster will agree terms on a new deal, but so far Wickham has yet to reach an agreement. Now manager Poyet admits that Wickham could be on his way out of the Stadium of Light. Poyet said: "Connor is still playing, there has been no ban. I've not said if you don't sign you don't play. There hasn't been different treatment, but he needs to make a decision that's best for his career. If he wants to go somewhere else and play in Europe, fine, that's his decision. "My advice is to make the decision yourself. Of course listen to your parents, girlfriend, best friend, his agent. With all the information they give you, make the decision yourself. Sometimes people don't want to agree. They want to play a certain way. They want to tell you we will take him to Europe so the club has to pay us less compensation. "