Sanchez penalty sadness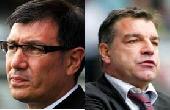 Unlucky Fulham boss

Lawrie Sanchez

has expressed his sadness at losing to Newcastle in injury time through a

Joey Barton

penalty. Sanchez stressed that there was no doubt the penalty was the correct decision.
Sanchez said: "The penalty was symptomatic of our season. I keep saying it but I think it is true - we keep playing well right to the moment when we lose.

"With five minutes to go I was disappointed we were only going to get a point. And I was even more disappointed when we were cruelly beaten.

"That has been the story of our season to date, I'm afraid.

"There was contact, without doubt. The ball had been passed by the time it was made and when the shot went off and was saved he has dragged it back and given a penalty.

"I can't really argue with the penalty and I thought he (Omozusi) had been man of the match up until then.