Liverpool Would Jav A Bit Of That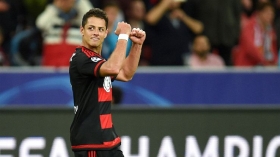 When he walked through the doors at Anfield, many expected

Jurgen Klopp

to 'wave the magic wand' by improving Liverpool overnight almost. It hasn't been quite that simple for the German as his Liverpool side has struggled for consistency during his time in charge.


One must not forget this is the same Liverpool team which was in the care of former manager Brendan Rogers. The Northern Irishman's Liverpool side was an expensively assembled squad, but a squad that was ultimately lacking talent. 

In Jurgen Klopp's first game in charge, The Reds could only draw and that was through a late Benteke goal that they got the draw. Liverpool's play, in general, has been good this season except for a few bad performances such as the games against Newcastle and West Ham. 

The games that Liverpool have played well in, such as the Manchester United game on Sunday, their finishing let them down - and that cost them dear as they went on to lose the game as we know.  

Yes, it can be argued that David DeGea had 'one of those days' but the miss by Jordan Henderson only proves my point that Liverpool need a good quality finisher in their side. 

For a side that has spent the money that Liverpool has in the transfer market, I am surprised they didn't go out and sign a striker such as Alexandre Lacazette or even a cheeky bid for Zlatan. 

As good as those players are though I think, Liverpool could do with signing a player like Javier Hernandez. That's right folks, the same Javier Hernadez that was once of Man United. 

Have I lost my mind? No, I can assure that isn't the case, just hear me out - it's not as crazy as it sounds. In the case of Hernandez, here is an example of a player who at Manchester United was never given the chance to succeed. 

Louis Van Gaal never gave the Mexican a fair crack at the whip, even when Sir Alex was in charge 'Chicharito' had few starts. The little Mexican's goals were mainly from the bench. 

When given a chance in the first team, just look at what he has done this season. Javier Hernandez has 19 goals from 22 starts, that's even more than Robert Lewandowski! 

What Hernandez has in his favour over other Liverpool potential transfer targets is that he has already played in the Premier League. In difficult circumstances, Chicharito did well, he scored goals. 

The former Manchester United man has shown he can do it in other leagues as well. One stumbling block could be the transfer fee and Bayer Leverkusen's  reluctance to sell, 

Liverpool should still ask the question, what's the worst that Bayer could say? If they say no like is expected then that's what they were expecting in the first place.

The Reds have nothing to lose and a lot to gain if Hernandez says yes, Liverpool already have a potential advantage in the fact that the Mexican's relationship with Louis Van Gaal isn't great.

For that reason, Liverpool should sign  Javier Hernandez, simply because he is a player who would be eager to prove LVG wrong and show any critics that he can cut in England.