Why David Silva is Manchester City's most important player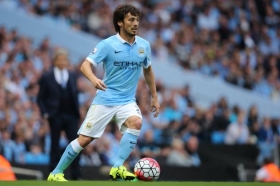 A lot of focus has been on Manchester City's formation and style of play this season under

Pep Guardiola

.


The tweaking of the full back positions, the way his wingers operate, and who his number one goalkeeper is are all elements of Guardiola's style of play that have attracted attention, as Pep tries to mould Manchester City into his own. And these are all important elements of the way that Guardiola likes his teams to play, and have been in evidence in the way that City have lined up so far this season. 

But the most important element of City's play so far has to be the midfield three. The initial reaction to a Manchester City midfield that consists of Fernandinho holding, David Silva and Kevin De Bruyne ahead of him, with two wingers (at the moment Nolito and Sterling) asks the question of whether or not this midfield is too attacking.

And the answer to that so far has to be an overwhelming no. Part of this is down to the system itself, very similar to the one that Jurgen Klopp has utilised at Liverpool, that allows the two more attacking midfielders to be in themselves a form of defence, both in the way that they enable City to keep the ball for large periods of play, thus reducing the amount of chances an opponent has to attack, but also in the way that they press high up the field, enabling City to win the ball high up the field. The idea with City, as it is with Liverpool, is to minimise the possession that the opponent is allowed to have inside the opposition half. 

But the crucial element is the players that operate in this system. You need to have the right combination of players, which City certainly do. To crudely analogise this City midfield with a peak Barcelona midfield, Fernandinho plays the Busquets role, De Bruyne plays the Iniesta role and that leaves David Silva in the Xavi role. As I say, this model is crude and inaccurate, but for the purposes of this article, it will work fine. 

De Bruyne then, as we saw against Manchester United, is the most attacking of the three players. He is the one that played almost up front alongside Iheanacho at times in the first half of the derby, allowing his natural quality on the ball and creativity to flourish, and indeed he caused United a myriad of problems, scoring one goal and creating another. 

Likewise, Fernandinho is the most defensive. Whilst his passing game is naturally very important, as is any player's in a Pep Guardiola team, the most important element is the ground covered, and Fernandino is a man who has to cover more ground than anybody. It's no coincidence that the teams covering the most ground this season have been Liverpool and Man City, because of the way that their systems operate: Liverpool's highest is 117.6km. In the derby, City ran an astounding 119.6km. 

But the most important player in Manchester City's midfield is David Silva. Whilst De Bruyne's creativity and Fernandinho's hard graft and covered ground are important elements, Silva is not only City's most influential player, but the best playmaker in the entire Premier League. It's all about one word: control. 

A lesser player in David Silva's position would not be a disaster - look at how Liverpool are doing without him - but Silva is the difference between a very very good team and an exceptional one, because he gives Man City complete and utter control of any opposition they face. Against Manchester United, arguably their toughest opposition in the league, City had over 60 percent of the ball, and 66 percent in the first half, and so much of that was down to Silva. He brings so much to the table. Against United, his pressing was phenomenal, he tracked back hard and won tackles, and his intensity and energy levels were second to none, but it's his passing that stands him apart. Silva does not give the ball away, he is almost unpressable, and if a team, like United did, gives him time and space to operate, he is a master of his craft. 

What Silva has is an astounding technical ability, and the vision and intelligence to utilise that ability properly. He can see the passes, he can see what the correct pass to play is, and he has the ability to execute those passes. He allows City to dominate possession, control games and at the same time he is able to not just dictate the play, but at the same time be creative with it. Silva is not just a player who uses the ball well, but does so in service of scoring goals. He's at the heart of all of City's attacking play, so not only ensures that they retain the ball, but that they use it wisely. 

There are very few players who possess Silva's skills. Dembele and Eriksen at Spurs are two players who probably share his skills between them: Dembele is unflappable and moves the team forwards, and Eriksen picks the passes in the final third, but they are two individuals and neither of them is at Silva's level. At Arsenal, Mesut Ozil is probably the closest competition in terms of creativity and passing, but I'm not sure Ozil quite has Silva's level of control over games. And at Liverpool, Phillipe Coutinho is probably the number one man for this position, but he keeps playing out on the left hand side out of the game, where Silva used to play for City and was simply less effective out there. United have nobody even close to Silva's caliber at what he does. 

So on Saturday afternoon, whilst it was rightly Kevin De Bruyne who stole the plaudits for his exceptional display, it was little David Silva who ran the midfield: who ran circles around Manchester United, and whose performance is the difference between City and every other good attacking team in the Premier League. 

He is, quiet simply, the best.