Liverpool This Season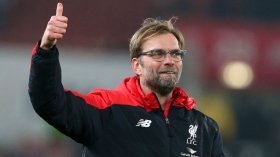 Liverpool has made a great start in the Premier League this year and is currently in fourth place after Manchester City, Tottenham Hotspur and Arsenal.
The Liverpool manager Jürgen Klopp has hinted that he suspects Premier League glory for his team, but has said that he cannot openly declare this as 'everybody will go nuts.'

Liverpool has not won the English league title since 1990, which was before the Premier League was formed in 1992, and the top English teams played instead for what was called the Football League First Division. At this time, Liverpool was by far the most successful English football team, having won the league a total of 18 times. However, since the 22 clubs that made up the First Division of the league resigned and set up instead the Premier League, Liverpool have not once managed to score the winning title. When the new league was formed Alex Ferguson, Manchester United manager, famously said, "My greatest challenge is not what is happening right at this moment, my greatest challenge was knocking Liverpool right off their perch," and that is exactly what he did as Manchester took charge as the most successful team in the Premier League era.  

Liverpool did, however, come close to winning the title under Brenden Rogers in 2013/14, with the brilliant Luis Suarez on their side. The expectation was that Liverpool would win the league, but in the crunch game, the one that would determine their success, Gerrard made an extraordinary mistake which cost Liverpool the title. Which we won't spend much time on... 

After selling Luis Suarez for a record club fee, Liverpool results started slipping, and Rogers was sacked. 

Liverpool has improved season on season since Jurgen Klopp came in and are now hoping for a return of the glory days. Jürgen Klopp made his name as Dortmund manager by miraculously beating Bayern Munich in the Bundesliga title in 2011. He won 'German Football Manager of the Year' in 2011 and in 2012, and left Dortmund in 2015. So, as a renowned manager, in October of the same year, he took on Liverpool F.C. A great way of introducing Klopp's managerial methods is through his own words, as he once related Arsene Wenger's way of formulating his team to "an orchestra, but it's a silent song, and I like heavy metal more. I always want it loud! I want to have this BOOM." Here, he interestingly compares Arsenal's efficient teamwork and the passing of the ball, to his own preference of fast attack. Klopp plays his teams with quick counter-attacking speed, and with quick, powerful and strong players. He is known for the gegen pressing style of football, which requires immense fitness levels, and was initially not doable with the former Liverpool team. In his first season with Liverpool, Klopp struggled with consistency in a team that did not feel his, as he took over from Rogers halfway through the season. But, in his second season, after making some summer signings, the team feels a lot more molded in his image and seems better equipped to deal with the intense style of football that Klopp demands. 

Anyway, with United tonight we can only hope for another good performance and just take it one game at a time.