Neymar drops Premier League hint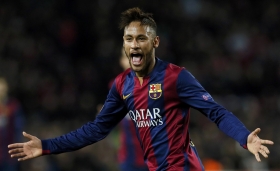 Barcelona star Neymar is one of the most prolific strikers in the world, as one third of the devastating MSN strike force that can put fear into any defence. The Brazilian talisman is sure to be a key player for the incoming Barcelona manager next season, however he has revealed that he would like to play in the Premier League.


The unfortunate news for Premier League fans is that Neymar has recently signed a new five year contract with the Catalan giants, for whom he has scored 99 goals since he arrived four years ago.

Reports from The Sun today though explain that the English Premier league "amazes" Neymar, and at some point in his career he "would like to play at it, yes." This will come as good news to the Premier League's top clubs, as with Neymar still only being 25 years old, has many years left to play.

As he spoke about his admiration for the league further, Neymar may have hinted one of his future destinations, saying that he "admires Manchester United, Chelsea, Arsenal, Liverpool - these are the teams that are always there fighting."

Before Manchester City fans get to disappointed that they weren't mentioned in that list, he also explained that any player would like to play for managers such as Pep Guardiola and Jose Mourinho.