Star Tottenham player wants to leave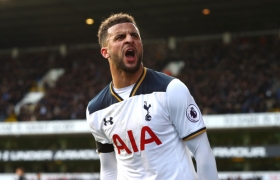 After an impressive season, which could potentially still end with a Premier League trophy, Tottenham Hotspur appear to be going from strength to strength. One of their key players however, may be on his way out of White Hart Lane.


Kyle Walker has demonstrated that he is one of the Premier League's best full backs, but he may soon be turning out for another team. Reports in the Independent claim that Walker has had an ongoing dispute with manager Mauricio Pochettino about his fitness, which may result in him leaving at the end of the season.

The report suggests that Pochettino believes Walker is not fit enough to play two games within the space of a week, something that the England right back does not agree with. This has resulted in Kieran Trippier being selected in his place in recent games, whilst Walker has started to look elsewhere.

Tottenham chairman Daniel Levy is determined to keep hold of his key players in the summer, but the manager may tell him that it is time to let Walker go. Walker is wanted by the likes of Manchester United, Manchester City and Barcelona, who may have a better chance of signing him as Spurs will not want him to sign for a Premier League rival. It is believed that Tottenham will want at least £35 million for Walker, but with big teams involved, that price could quickly elevate.