Griezmann's move to Manchester United off after Atletico's transfer ban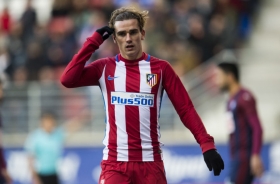 Griezmann will likely remain at Atletico Madrid after the club's appeal against their transfer ban failed.
Antoine Griezmann had been heavily linked with a move to Manchester United, with various reports saying a deal was already in place. Griezmann himself hinted at a move to the Red Devils in an interview on French TV programme Quotidien, saying there was a "six" out of 10 chance he will make the move.

However, the complexion of Atletico's transfer activities have taken a twist following the club's failed appeal against their transfer ban. This means that the Madrid club will not be able to sign players until January 2018.

Griezmann sent out a tweet just hours after the news, saying: "Now more than ever, Atleti", seemingly signaling his commitment to the club.

Atletico Madrid will not want to sell their best player, given that they will not be able to sign a replacement due to the transfer ban. Atletico is likely to invest in the current crop of players and try to keep them by increasing their wages or adding extra bonuses to their contracts. 

According to the Telegraph, Manchester United understands the situation and have already called off the transfer of Griezmann in favour of other targets they have in mind.