Giroud vows to win the Premier League with Arsenal amidst transfer rumours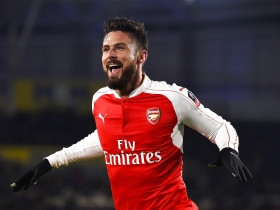 Olivier Giroud

has pledged his future to the club amidst reports linking the forward with a move back to Ligue 1.
The Frenchman did not enjoy as much playing time as he wanted, with many of his 39 appearances coming off the bench. Arsenal manager Arsene Wenger's decision to convert Alexis Sanchez into a forward was one of the prime reasons behind Giroud's limited playing time.

With Arsenal's interest in both Kylian Mbappe and Alexandre Lacazette rising, Giroud was poised to make a move away from the North London club and back to Ligue 1 in search of first-team football. 

However, the 30-year-old forward has come on record to pledge his future to Arsenal. 

He was quoted by Sky Sports as saying: "I am not insensitive to the approaches of the French clubs and especially that of Marseille. But my future is in the Premier League. I still have titles to win." 

"After the FA Cup, we will go for the league title. That's my goal." 

With Alexis Sanchez expected to leave, it could be vital for Wenger to keep Giroud at the club given his excellent scoring rate. A report by the Daily Mail at the start of the year illustrated this where it showed Giroud having the highest goals-to-minute ratio in the Premier League as the forward scored a goal every 68 minutes.