Donnarumma officially extends his contract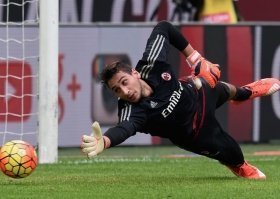 Gianluigi Donnarumma

has officially signed a new contract with AC Milan, binding him to the club until June 2021. This comes after a long saga that saw Milan fans turn on the 18 year old after initially refusing to extend his contract. 
The Rossoneri also signed Donnarumma's older brother Antonio, who is also a goalkeeper on a four-year contract.

Both the contract extension and the acquisition of Antonio Donnarumma was announced in a press conference taking place in Casa Milan where both Donnarumma brothers were present, along with AC Milan CEO Marco Fassone and sporting director Massimiliano Mirabelli. 

Donnarumma stated at the press conference, "I am very happy and honoured to be at Milan. In my mind I never had any kind of doubts.". He also apologised to the fans, saying, "I am just sorry for the fans, I am very proud to be at Milan.". His brother also looked happy to sign for the San Siro side, stating, "I thank Dr. Fassone and the director [Mirabelli]. I am really happy to be here at the club and with my brother."

It looks like the Donnarumma saga has finally ended with a happy ending, and the 18 year old will not be going anywhere the next four years.