Rooney: farewell to a Man Utd legend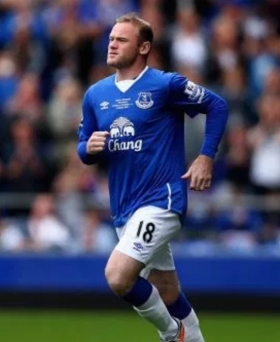 13 years. 559 games. 253 goals – and a club goal scoring record to boot.

Wayne Rooney

's time at Manchester United has come to an end, and Rooney has now been officially confirmed as an Everton player once again.
Immediately following the announcement of Rooney's departure, an outpour of gratitude and memories followed as supporters from all around the world fondly allowed themselves to reminisce over some of Rooney's most magical moments. 

The overhead kick against Manchester City, which even saw Sir Alex Ferguson jumping for joy, the hat-trick against Fenerbahce on his Old Trafford debut that kickstarted Rooney's outstanding Man Utd career. Many saw him as England's next big thing and someone who could play a large part in leading the country to glory once again. 

Suffice to say, Wayne Rooney has always been a figure that has divided many people. But it would be difficult to find a single person who doesn't believe that he is truly a footballing legend. 

Rooney's career is far from over. As he shifts from red to blue, he has returned to his boyhood club, where he first explosively announced himself onto the footballing stage and seized the eyes of the sporting world. It would be a fitting final chapter for Rooney if he were to end his career in the very same fashion from which it started. 

However, the back end of his time at United demonstrated Rooney far from his best. A general lack of sharpness affected him in the biggest of games and he struggled to make an impact under the demanding managerial philosophy of Louis van Gaal. He also found himself being slowly phased out of games last season under Jose Mourinho. 

It is easy to see why Rooney has made this move. It isn't a brave decision or one he should take with a heavy heart; he has achieved everything at Manchester United and departs as a true great. 

After all, last season saw him overtake Sir Bobby Charlton as the Red Devils' all-time record goal scorer, and that is a record that will likely hold true for many decades to come. In a world where players come and go more than ever before, Rooney's loyalty to the red half of Manchester has seen him achieve these records and leave with the majority of fans sure to be wishing him well in the next chapter of his career. 

Now Wayne Rooney stands proudly in his first photographs wearing the new Everton jersey. It is hard to miss the unmistakable glint in his eye; a hunger to succeed and to do the best for his club. Ambition is certainly one of the attributes that Rooney has never lost. 

There are a couple of ways to view this transfer. Everton are certain to see this move as a financially sound acquisition of a former fan favourite and also someone who has achieved everything available to him in the world of football. They will see his experience as being invaluable and hope Rooney can inspire the club to achieve a European finish at the very least.

However, some may see this transfer as a risk, and potentially an unnecessary one. It may have been a shared dream between club and player to reunite once again, but have Everton made the transfer happen as Rooney's ability is visibly slipping away? 

The 2009-10 season for Wayne Rooney is his joint-best in the red shirt of Manchester United, as Sir Alex Ferguson used Rooney as Man Utd's main attacking outlet and in that role he flourished, hitting the back of the net 34 times. The 2011-12 season matched this figure, with Rooney once again being used as a key focal point of the Red Devils' attack. However, it is after this that Rooney's form is worrying. In 2014-15, Rooney only scored 14 goals, then 15 the next and then just 8 in his very last campaign, albeit surpassing Sir Bobby Charlton's record. 

Football experts and fans would have a valid point if they were to pin the blame for this decline on Rooney's positioning on the pitch. Rooney found himself deeper and deeper into the heart of United's midfield as the years rolled by. But it is still an alarming decrease in goals for someone who was certainly still a key component to the Red Devils' attack. 

The Everton faithful will be hoping that Rooney can inspire his team, and grab himself more goals in the process. An expectation of around 15 goals could be a realistic one if the team allow him to flourish and provide him with the right kind of service. What Everton have lost in Romelu Lukaku's transfer to Manchester United may not be easily replaced, but the acquisition of Rooney could certainly be a step in the right direction. 

The striker's finishing ability shouldn't be underestimated, and with a new home allowing him to push forward and continue to challenge himself at football's highest level, Wayne Rooney has almost certainly left Manchester United a legend, rather than the boy he was when he joined.