Premier League's '39th' game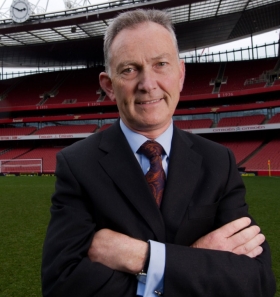 The rumours won't go away, will they? The Premier League to have a 39th game…abroad!!
Once again, Richard Scudamore (Premier League Chairman) happened to mention this in passing at the event of the Premier League Asia Trophy. He still seems more than keen for this to happen!



It first got mentioned in 2008 and was knocked down by fans & the media alike. However, it is a topic that doesn't appear to be going away, even though the idea of playing a '39th' game abroad is something we as fans just don't want. However, it's looking more likely that clubs do!!



The Premier League chairman, Richard Scudamore insists there is no plan to play a 39th fixture abroad, although he believes there is still interest in doing so from Premiership clubs. At a time when income is ripe in English football, as is player spending, it's not surprising to read more stories about how clubs want to make yet more money and a 39th game abroad will help increase finances across the board. That doesn't make it right, though does it?



Hong Kong has been the location of this year's Premier League Asia Trophy, a competition hosting 4 English clubs. Liverpool and Leicester will contest the final on Friday after knocking out Crystal Palace and WBA yesterday.



Richard Scudamore was speaking at this trophy event in Hong Kong and admitted he still has wounds from the backlash against the initial idea of a round of matches being played on foreign soil, and said,



"I've got the scars all the way up my back (from the last time). "Look, I may be at the Premier League for five, 10, 15 or 20 years. There is no plan to do it.



"Is there still a burning desire? The clubs would like to do it but we are also realistic that says until the fan, political and media reaction is any more warm towards it, it won't happen.



"We have no time set for it but I am a man of belief. I thought it was the right thing to do I, still do."



As well as this tournament, Premiership title contenders Manchester United, Manchester City & Arsenal have joined Champions Chelsea in featuring abroad in the International Champions Cup this summer. In fact, you don't get many sides not going abroad for pre-season, a sign perhaps that this really is an idea that isn't going away.



But English fans have always been against the idea of the 39th game, and as a football fan myself, I can see why. Why should I pay so much for a Premiership Season Ticket, to see my team play a 39th game abroad? It's not cheap to watch my team away from home, without adding the cost of me travelling abroad to see them. Is that not what we have European football for?



What many fans laugh at is that you hear teams, players etc moan about wanting a 'Winter break' because they work so hard, and are so tired etc. Again, this is something us fans don't want but it gets mentioned every season. It's especially difficult to appreciate when most clubs seem so happy these days to go abroad pre-season, surely that must be more tiring than playing local games pre-season? Yet, we now hear talk again of playing a 39th game abroad!



I guess the NFL guest at Wembley sometimes, or the WWE wrestling group travel across the world doing similar, but is it the same? Are both held in such high regard? That's open to debate, but I don't think the answer is yes.



You also get the impression that if we did give in, and have the dreaded 39th game abroad, it would open a right can of worms. I'm pretty sure this idea would evolve and change, and you would end up playing games all over the place. There's been talk in the past about Scottish clubs Celtic and Rangers joining our league, and you could see this becoming more likely if the Premiership format was to change, couldn't you?



The Premier League Asia Trophy had planned to play half of the games in China but logistical issues meant Hong Kong was called upon to host the entire event. This is the 4th time they have held this.



The tournament was held in Beijing in 2009 and Richard Scudamore continues to show interest in what is happening in Chinese football. It's fair to say football interest has grown, as it has in other countries such as America and Japan, but does that really mean we should continue to help their countries grow?  I don't think so.



Money is being spent left, right and centre now, but not all fans want it to dominate the game. In fact, we have to be careful that it doesn't, because if it ever ruins our football format, we may well all have regrets, and I'm pretty sure a 39th game abroad is something we should continue to stand against!