Real Madrid fail in appeal against Ronaldo's five-match ban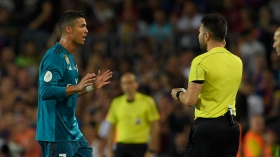 Cristiano Ronaldo

will miss the second-leg of the Spanish Super Cup against Barcelona after the Spanish Football Federation confirmed that they rejected Real Madrid's appeal against his five-match game.


Ronaldo was wrongly booked a second time for diving against Barcelona in the first-leg of the Spanish Super Cup. He proceeded to vent his frustration at the referee by lightly pushing him from the back, an action that the Spanish Football Federation deemed worthy of a five-match ban. 

Real Madrid manager Zinedine Zidane and right-back Dani Carvajal were the most vocal about their frustration and disdain at the decision and Real Madrid followed suit as they appealed against the decision to the Spanish Football Federation.

However, the federation confirmed today that they had rejected Real's appeal. They released the official appeal form and reply on their website which confirmed their decision to not overturn the five-match ban, which means Ronaldo will definitely miss the return leg of the Spanish Super Cup at the Bernabeu. 

Madrid will likely bring the matter up to even higher authorities in the form of the Spanish government's Tribunal Administrativo del Deporte in hopes of getting the ban for the remaining four-matches overturned, despite the RFEF's disciplinary code clearly stating that any sort of push on a match official will result in a four to 12 match ban.