Arsene Wenger insists Sanchez is not fat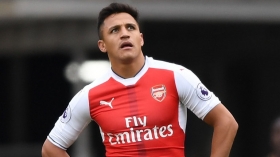 Arsenal boss

Arsene Wenger

 has denied suggestions that forward 

Alexis Sanchez

 has put on weight during his extended break from competitive football.
Since the end of June, Sanchez has managed just two outings for the Gunners while also representing Chile in their World Cup qualifiers.

Former Chile Under-20 coach Jose Sulantay had recently criticised the 28-year-old for being fat after the national team lost key games against Paraguay and Bolivia.

However, Wenger does not entertain such claims although he admits that the attacker is not physically fit to manage three games in a single week.

He added that the forward is fully focused on the club's Premier League and Europa League campaign following his recent disappointment with the Copa America holders.

 "Yes, I spoke to him. He is focused, he told us he is focused on the Premier League and Europa League. On top of that he had a bad result with Chile against Bolivia, but he came back full of desire and ready to play," he is quoted as saying by The Mirror.

"He was not completely physically ready to play three games in a week - and for Chile he was not completely ready. He is not fat. His fat percentage is under 10. You know how it is, when you do not win, people will find problems." 

Sanchez was a late substitute in the 3-0 triumph over Bournemouth in the Premier League last weekend. The Chilean has been working hard in training to get back to his old self, and he could be in line to start against Koln in the Europa League opener on Thursday night.