Oumar Niasse: Everton's forgotten man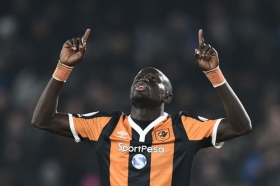 Niasse, who less than a year ago was ousted from the team by

Ronald Koeman

, may have just saved the Dutchman's job after his brace gave Everton their first win in the Premier League after four games.
Everton manager Ronald Koeman talked up his side's performance after losing 4-0 to Manchester United last week and attributed his team's horrible start to the fixtures they have had.

True enough, Everton had faced four out of the top six teams in their first five games of the season. Despite the margin of those losses - conceding a total of 10 goals to Manchester City, Chelsea, Tottenham and Manchester United - the Everton board decided to keep their faith in Koeman, accepting the tough fixtures as a worthy excuse.

However, when Bournemouth took the lead at Goodison Park, the Dutchman's job was surely hanging by a thread. The Cherries are a team Everton were expected to win easily, having spent so much in the transfer window on the likes of Wayne Rooney, Sandro Ramirez, and Gylfi Sigurðsson.

The man who turned it around for Everton and more crucially for Koeman wasn't one of the new faces, it was the man Koeman himself had ousted from the squad just less than a year ago - Oumar Niasse. 

The Senegalese signed for Everton from Lokomotiv Moscow for a fee of £13.5 million in the 2016 winter transfer window. After just seven appearances and 152 minutes of football, his ostracization begun.

He was not given a squad number the following season and was informed by Koeman to leave the club if he wanted game time. The Barcelona legend said at the time: "If Niasse likes to play football, he needs to leave Everton."

He was finally given a squad number of 24 after he failed to find a club and included in Everton's Premier League squad. That lasted just a few months as in October 2016, Niasse was relegated to the U-23 side. Stories even came out of how his personal locker was taken away from him, such was the extent of his ostracization. 

Niasse completed a loan move to Hull in the 2017 winter transfer window, scoring four goals in 17 Premier League appearances as the Tigers were relegated. 

Again, Everton failed to find a new club for Niasse after Hull opted against signing the forward following the conclusion of his loan spell. Little did Koeman know that this would be a defining moment for him.

Niasse scored the third goal in Everton's 3-0 win over Sunderland in the League Cup and was brought on for Rooney, out of desperation more than tactical manipulation from Koeman.

In the space of five minutes, Niasse scored a double and overturned Everton's 1-0 deficit into a 2-1 win, effectively saving Koeman's job, and becoming something of a cult hero at Goodison.

It remains to be seen if Niasse will continue this incredible comeback but Koeman will always remember the time when the forgotten man saved his job.