Henry to succeed Arsene Wenger?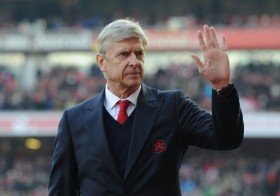 The pressure on Arsenal manager,

Arsene Wenger

, is set to increase once again this week following The Gunners' 3-0 defeat to Manchester City in the EFL Cup final and the manner in which they were beaten.


Last season, with Arsenal struggling to compete and Wenger's contract set to expire, many Arsenal fans were expecting and hoping that the veteran Frenchman would be replaced. Following the team's FA Cup victory on the final day of the season, however, Wenger, who has achieved so much during his time in North London, was offered a new two-year deal.

Now, with three months of the season remaining, Arsenal are ten points adrift of the top four in the Premier League, they missed out on the EFL Cup, they were beaten by Championship side Nottingham Forest in the FA Cup and now have to beat AC Milan to progress any further in the Europa League.

It is hard to identify what exactly it is that is going wrong for Arsenal. Arsene Wenger has achieved so much as manager of the club and the players in their squad possess undoubted ability. Many suggest that the issues lie in the passion and commitment of players, which is failing to be inspired by the manager.

One man, who is loved by everybody around Arsenal Football Club and has an unquestionable passion for them to succeed is record goalscorer, Thierry Henry. The Frenchman, who scored 228 goals for The Gunners, not only knows the club inside out but has been gaining coaching experience with Arsenal youth teams previously and currently the Belgium national team.

Following Arsenal's Cup final defeat on Sunday, Henry was asked whether he would be interested in becoming Arsenal's next manager. He responded by saying it would a dream for him and that he would certainly be interested.

How long Arsene Wenger has left at Arsenal is yet to be seen, but when the time comes for him to leave, the club will struggle to find someone who has more desire for Arsenal to succeed than Thierry Henry.