Aston Villa in pole position to sign Marco Asensio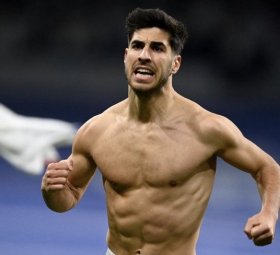 27-year-old midfielder

Marco Asensio

is set to leave Real Madrid on a free transfer this summer, as the player's contract comes to an end in Madrid. A tweet from

Fabrizio Romano

suggests that Asensio will likely move to England and Aston Villa, as manager

Unai Emery

considers bolstering his squad ahead of the 2023-24 campaign.


Aston Villa's remarkable progress in the Premier League has not gone unnoticed, and the potential acquisition of Marco Asensio highlights their growing ambition. As the 27-year-old midfielder's contract with Real Madrid nears its end, a move to Villa Park on a free transfer seems to be on the cards, as indicated by renowned journalist Fabrizio Romano. Villa manager Unai Emery recognizes the need to strengthen his squad for the upcoming 2023-24 campaign and sees Asensio as an ideal addition.

Marco Asensio's impending departure from Real Madrid presents an opportunity for Aston Villa to secure the services of a proven and versatile attacking midfielder. Known for his technical brilliance, intelligent movement, and ability to contribute with goals and assists, Asensio possesses the qualities that can significantly enhance Villa's attacking prowess. His experience at the highest level, including success in La Liga and the UEFA Champions League, would bring invaluable know-how to a Villa side eager to continue their upward trajectory.

The allure of playing in the Premier League is another factor that could entice Asensio to join Aston Villa. The English top flight's global appeal, competitive nature, and the platform it provides to showcase his talents could be a strong draw for the Spanish international. Asensio's style of play, characterized by his skill on the ball, incisive passing, and clinical finishing, would make him a potent weapon in Villa's attacking arsenal, capable of unlocking defenses and creating scoring opportunities.

Furthermore, the prospect of working under Unai Emery could be an enticing proposition for Marco Asensio. Emery, known for his tactical acumen and ability to get the best out of attacking players, could provide the ideal environment for Asensio to flourish. The Spanish manager's track record of developing and nurturing talented individuals could be a significant factor in the player's decision to choose Villa as his next destination.

Aston Villa's ambition and upward trajectory make them an attractive option for Marco Asensio. The club's strong performances in the Premier League, coupled with the potential to be a key figure in their exciting project, could sway the midfielder towards Villa Park. If the move materializes, Asensio's arrival would not only bolster Villa's squad depth but also elevate their attacking capabilities, providing them with a marquee signing that signifies their ambitions in the English top flight.