Croatian youngster Ljubo Puljic joins Bayern Munich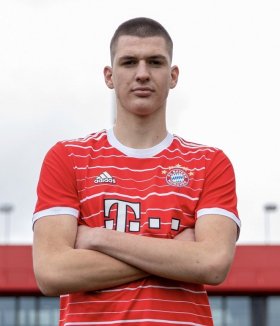 Bayern Munich have secured a major coup in signing

Ljubo Puljic

today, with the former Osijek starlet signing a long-term deal at the Bavarian club. The 16-year-old will be a member of Bayern's under-17 squad this season, but is expected to be rapidly progressed through to the first-team.


In a move that highlights their commitment to nurturing young talent, Bayern Munich has pulled off a major coup by securing the services of Ljubo Puljic, the highly touted 16-year-old prodigy from Croatia. The former Osijek starlet has inked a long-term contract with the Bavarian club, marking a significant milestone in his burgeoning career. While Puljic will initially join Bayern's under-17 squad for the upcoming season, the club has high hopes of swiftly accelerating his development and integrating him into the first team.

Puljic's signing represents a strategic investment by Bayern Munich, a club renowned for its ability to identify and groom young talents into world-class players. The decision to bring the Croatian wonderkid to Bavaria underscores the club's unwavering commitment to maintaining a conveyor belt of promising prospects to ensure sustained success in the future.

At just 16 years of age, Puljic has already showcased immense potential and maturity beyond his years. The midfielder's technical ability, vision, and composure on the ball have drawn comparisons to some of football's finest playmakers. He possesses a natural understanding of the game, often making astute decisions that belies his tender age.

Puljic's versatility further adds to his allure as a player. Primarily operating as a central midfielder, he has displayed the capability to contribute in various positions across the midfield and attacking lines. His tactical awareness allows him to dictate the tempo of the game, orchestrate attacks, and provide a constant threat in the final third. Additionally, his tireless work rate and tenacity make him an asset in both offensive and defensive phases of play.

While Puljic's immediate focus will be on the under-17 squad, Bayern Munich's intention to expedite his progression to the first team is a testament to their belief in his potential. The club's track record of promoting youth players to the senior side, combined with their state-of-the-art training facilities and experienced coaching staff, create an ideal environment for Puljic's development.

The youngster will have the opportunity to train alongside established stars and learn from seasoned professionals who have excelled at the highest level of the game. This exposure to Bayern's first-team setup will undoubtedly accelerate his growth as a player, sharpening his skills and expanding his footballing knowledge.

Puljic's arrival at Bayern Munich not only signifies a significant step forward in his own career but also highlights the club's commitment to maintaining a long-term vision. The signing is a clear indication that Bayern aims to build sustainable success, blending established stars with promising young talents to create a winning formula for years to come.

As the Croatian sensation settles into life at Bayern Munich, the footballing world eagerly awaits his progression through the ranks. While it may take time for him to establish himself in the first team, Puljic's talent, determination, and the nurturing environment provided by Bayern bode well for his future prospects. With the right guidance and opportunities, he has the potential to become a key figure for both club and country, embodying the next generation of exceptional talents emerging from the renowned Bayern Munich academy.