Blackburn quiet on Shearer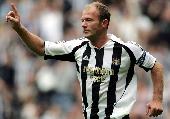 Blackburn chairman John Williams is remaining tight lipped on reports that

Alan Shearer

was the number one candidate to take the vacant managerial post at the club after

Mark Hughes

left for Man City.
Williams said: "There will be no news today - what is in the public domain is we are having a meeting to consider the candidate list, which is a good list, healthy list, lots of very interesting applicants and we start work today and see where we go.

"It is never good to lose the manager but if there is going to be a time, this is the time as we are between seasons - I would hope that we will have something within a week to ten days.

"I think it is pretty obvious we won't be seriously considering 40 people but we will give every candidate, everybody that has bothered to show interest in the job needs consideration and that's exactly what the start of this process will entail.

"We have had one managerial change in eight years, this will be the second one, these things happen - I'm disappointed to lose Mark but we have to turn that into an opportunity. As I say, lots of interesting candidates and it's important that we now, after Graeme (Souness) and Mark, make sure it is three out of three."