Fabregas warns Man City over Kaka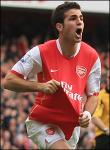 Arsenal midfielder

Cesc Fabregas

has warned Manchester City that spending 107 million GBP on Brazilian forward Kaka will not guarantee them success, as City's wealthy owner continued to pour cash into the Citizens.
Fabregas revealed: "A team is not built by the cheque-book alone. Money is not the most important thing in football.

"I think the important thing is not to rush into signing a new player just because money is available.

"A good team will develop naturally and trying to speed up this process with lots of money can be dangerous.

"If the club is well run, and the money they now have is well spent on building a good team, Manchester City will be dangerous. But money cannot work a miracle overnight.

"For example, Manchester United have an expensive team. Yet they won the title because they were a strong group of players, who played good football and had the belief.

"Their philosophy of attacking football was clear and they were rewarded for that."