Why Roy should survive the panic reaction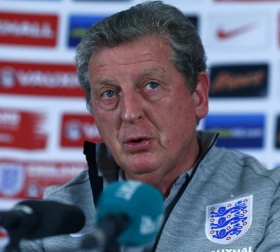 So after England's 2-1 defeat Uruguay, they are all but mathematically out of the World Cup. "Rubbish", "Over-paid", "Not fit to wear the shirt" are many of the clichés screamed by the drones of England's fans in Brazil, but one opinion which will gather the most voice behind it will be "sack Roy".
I understand that the Nigel Farage cardboard cut-out man on the street may feel justified in saying this but those who support the "sack Roy" brigade are just subscribing to the short term attitude and the panic reactions that have dominated the mind-set of the English fans for decades. In my opinion, we were never going to go far into this World Cup; we had a tough group, tough conditions and inexperience in the team. But what we can do with this is build on what we have learned. We can play attractive football and we can move away from past England eras of the big man culture, whether this be Peter Crouch, Emile Heskey or Andy Carroll. For this attractive English rose to blossom into something more matured, we need to give this team time and more importantly, Roy Hodgson time.

In the past, the panic reaction to a bad result has been to always blame the manager, as was seen in the disastrous reign of Steve McLaren from 2006-2007 and even the manager themselves quitting after a bad result as Kevin Keegan famously  did when he left his post mere minutes after England lost 1-0 to Germany in 2000. However, they did not have a team that can be sculpted and retaught to play a system as Hodgson does, with young players such as Raheem Sterling and Ross Barkley still not fully developed as the finished outfit. This allows for Hodgson to make something special out of this England team.

Spain (despite their poor performance at this World Cup) did not become the dominate force of football of the past 6 years overnight. It took changes to attuide, coaching methods and most of all, patience, a virtue that England lack. If we act as rash as we have traditionally done, this England team will never reach the heights of Spain that we all strive for, it will be the same cycle of hope and expectation before a tournament, despite knowing deep down that our team is not good enough to succeed. All the hype before this World cup was about letting the young and inexperienced player shine. Whilst Roy Hodgson is hardly a youthful man, he is a man that should be allowed as much time as the England players to succeed with England.

We need to look to the future, and not dwell on the mistakes of the past if we are to gain any future international success. We need to allow Roy time to develop this team and not submit to the short term thinking that the historically voices in our head are telling us to do. And who knows, maybe when we win the World Cup in 2018 with Hodgson as manager, the man in the pub may be not be as quick to shout "Roy out".