Costa Rica make history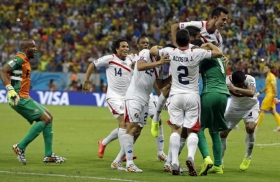 The shock team of the 2014 World Cup have made history by becoming the first Costa Rican side to reach the quarter finals in any World Cup. 
When Costa Rica were drawn into a group containing Uruguay, England and Italy most people thought that they would be an easy 3 points for all teams but they stormed through the group with ease giving themselves an excellent opportunity to reach the quarter finals as they were drawn against a fairly weak looking Greece side. The match itself was a midfield battle for the most part which lead to there being no real chances in the first half. Seven minutes into the second half Bryan Ruiz scored what looked to be a very fluky goal as he directed the ball to the opposite corner that the ball ended up in, never the less Costa Rica were on course to progress to the quarter finals. However after a second bookable offense for Oscar Duarte the Costa Ricans were reduced to ten men in the 66 minute making their task to qualify look almost impossible. After 25 minutes of holding the Greeks out the Costa Ricans finally caved and Sokratis Papastathopoulos smashed the ball past a despairing Costa Rica defence and into the back of the net. 

Extra time didn't have as many chances as both teams would have hoped and it seemed to just be a countdown to a penalty shootout as some players, Joel Campbell especially, could hardly move. Thirty minutes of tired football passed before the referee blew for what seemed to be the only way to separate these two sides. Both teams dispatched their first three penalties and it took a great save from Keylor Navas to deny Greece a fourth. Michael Umana was given the task to make history for his country and with an unbelievable amount of pressure upon him he did his job and sent Costa Rica through to the quarter finals for the first time in their history. 

A terrific team effort from Costa Rica was vital for their side to progress as they played for over an hour with only ten men, the World Cup in Brazil has given us many surprises but the performance of Costa Rica must be the biggest.