Chelsea's 3-4-2-1 vs Leicester - Formational Analysis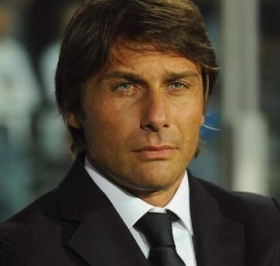 In the weekend's early kick-off, Chelsea welcomed champions Leicester to Stamford Bridge. After an eventful week for

Antonio Conte

, it was time for his side to bounce back and show why they can be real title challengers. Chelsea steamrolled the first half, playing an attractive style of football, and managed to limit a more lively Leicester in the second half. This was as a result of their 3421 formation, and the fluidity at which it was played.
The 3 Centre Backs:

The three cb's were very deep even when in possession, limiting the space in behind if Leicester, especially Drinkwater, wanted to release Vardy or Musa early. David Luiz sat in the middle of a centre back three consisting of himself, Cahill and Azpilicueta, and often controlled the play very well from the defence finding the wingbacks Alonso and Moses, and the wide forwards Hazard and Pedro exceptionally. With the depth cancelling out any option to run in behind the defence,  Leicester ended up trying to get crosses into the box, or play off of the strikers. However this was not a problem, because for the majority of the game Leicester played Musa and Vardy in a forward two, who lacked physicality and an aerial presence.

The 2 Central Midfielders:

In the middle of the park were N'golo Kante and Nemanja Matic. Kante was phenomenal, dictating the play and very rarely misplacing a pass, as shown by his 86 passes with a 87 percent pass accuracy. Furthermore, they both broke up their oppositions' attacks regularly, denying Leicester the opportunity to attack with any speed or fluidity, highlighted by the fact that they made 8 interceptions between them. Overall they controlled the play and found space in between the lines very well with little pressure on them, however I'm not sure they will be gifted the same freedom and time on the ball against Manchester United next weekend.

The Wingbacks:

Playing the wingback roles were Victor Moses and Marcos Alonso, who were brilliant at providing width and stretching the Leicester Defence. They were constantly overlapping the wingers ahead of them, and helped to create an overload in the final third. They also worked extremely hard running up and down the pitch, which is a characteristic Antonio Conte demands from his wingbacks.

The Front 3:

Perhaps the most impressive part of Antonio Conte's formation was the fluidity at which the front 3 played. The wingers, Hazard and Pedro, often tucked in allowing space for the wingbacks to overlap them, and almost playing as three strikers. When Chelsea had possession in defence, Costa often dropped deeper into a number 10 role, allowing the two wingers to adopt striker positions, changing the formation to more of a 352. This meant that Costa could use his physicality to pick up the ball in midfield and drive forward with it and release the wingers in behind. They often swapped positions meaning that Morgan or Huth couldn't mark Costa out of the game, and likely get Costa booking which would've led to him missing the next match against Manchester United.

Oliver Walsh