Pep feud motivates Zlatan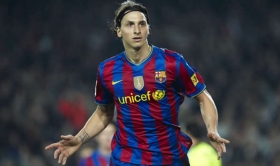 Zlatan Ibrahimovic

has had a sensational debut season at Manchester United since his arrival from Paris Saint Germain on a free transfer in the summer, but it hasn't always gone as well for Zlatan. During his time at Barcelona, Ibrahimovic and then manager

Pep Guardiola

didn't see eye to eye, a feud which he says still motivates him now. 
Ibrahimovic moved to the Nou Camp in 2009, scoring sixteen goals in twenty nine games, before being loaned out to AC Milan the following season. The Swedish superstar has undoubted ability, but for some reason it just did not work out for him in Spain. 

He has spoken to Fox Sports Italia about his time with Guardiola at Barca, saying that "the problem wasn't with me, it was with him, and he never came to terms with it. I don't know what his problem was with me."

Guardiola is no stranger to controversial decisions, showing no hesitation in getting rid of players who fail to get on board with his plans. At his current club Manchester City, long term goalkeeper Joe Hart was quickly shown the door, and rumours that Sergio Aguero will leave at the end of the season refuse to go away. 

Ibrahimovic also added that the past that the two share still drives him on when they meet. "When I play against his team, it's something that motivates me, it gives me adrenaline."

United's leading goalscorer will get his chance to show Guardiola what he missed out on when Manchester United take on Manchester City in the Premier League next month.