Defoe deal not yet permanent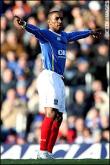 Harry Redknapp

and Portsmouth have admitted that

Jermain Defoe

's projected transfer from Tottenham to the South Coast has not yet been made permanent due to time constraints. The deal will eventually go through for a rumoured £7.5 million, but for now a loan deal is in place.
A Pompey spokesman explained: "The Defoe transfer was done as an initial loan because of time restraint.

"The full documents will be signed and registered this week and this is a standard method when you have little time."

Harry Redknapp added: "I honestly could not tell you the exact details but (at five minutes to midnight on Thursday) the two deals were dependent on each other with us getting £9million for Benjani and spending it on Defoe.

"I feel for Benjani because at the moment he seems to be the big loser in all this, but hopefully it will all be sorted out on Monday and I think he will end up as a Manchester City player.

"If not, from a greedy football manager's point of view, I'd be delighted to get Benjani back. I didn't want to lose him in the first place but, of course, I had to because it is good business to sell a 29-year-old and get in a lad of 25 who is always going to get you goals.

"The owner has spent a lot of money here already. He's been fantastic for me and it wouldn't be fair on him if he has to spend more now (with nothing coming back)."