Conte's comments sparks Fabregas exit rumours to Manchester United and Liverpool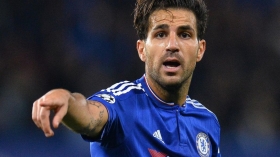 Fabregas could be the subject of a £30 million bidding war between Manchester United and Liverpool


 

The 30 year old Spaniard has endured a difficult season under Antonio Conte, starting only 5 times in the league and 10 times in all competitions. When asked about Fabregas' situation at a pre-match conference ahead of Chelsea's game against Middlesbrough, Conte reacted angrily, saying "'I'd like to underline the concept that I mustn't keep the players happy. We must win. How can you be unhappy this season, when you are fighting to win the title and the FA Cup?".

Conte later clearly stated that his priorities as a manager was to win and not keep players happy, "The player is not always happy to work hard. My target is to put a winning mentality in my players' heads, and that doesn't exist to keep players happy. I don't want this. I want players ready to fight and put themselves in the team to win together. If you are happy, or unhappy, I don't care."

While the player wasn't called out by Conte, this does show his unwillingness to start Fabregas more or cater to his happiness, and this could provide an opening for Manchester United and Liverpool to start a bidding war for him. Herrera and Fabregas could form a good partnership and allow Pogba to play in a more advanced role, while Liverpool would have a greater incentive to get him should Philippe Coutinho leave for Barcelona.