Arsenal ready to break the transfer record for Mbappe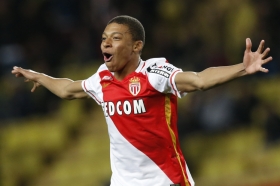 Arsenal are willing to part with £85 million for Mbpappe's services, with the promise of a central forward role


Mbappe has been a revelation this season, scoring 14 goals in Ligue 1 and 24 goals in all competitons, leading Monaco to the Champions League semi-finals. Arsenal's search for a centre forward has picked up speed in recent weeks following rumors about Alexis Sanchez likely leaving the club and the Daily Mail has now reported that Arsenal are willing to match Monaco's £85 million price tag for the teenager.

Arsenal will face stiff competition from the likes of Real Madrid, Manchester United and Juventus but Wenger will hope that the promise of a regular central forward role will sway Mbpappe to join the Gunners. Real Madrid already have established forwards in Karim Benzema, Alvaro Morata and Cristiano Ronaldo, with Mancester United looking to Marcus Rashford and Zlatan Ibrahimovic and Juventus regularly starting Gonzalo Higuain. With Sanzhez leaving, there would be a clear gap in the centre forward role which Mbappe could easily fill. Given his success and enjoyment in the role, a gurantee of that on a regular basis could turn his head.

The £85 million transfer free would double the record £42.5 million the club paid for Mesut Ozil, but Wenger would not want a repeat of Anthony Martial and allowing United to snap him up. One major stumbling block for the transfer to happen will be Arsenal's exclusion from the Champions League.