Neymar involved in training ground spat with assistant coach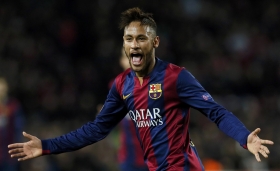 Neymar was reportedly spotted getting into a training ground spat with

Luis Enrique

's assistant

Juan Carlos Unzue

on Monday morning.
According to Spanish paper Mundo Deportivo, the spat began when Neymar and Unzue were discussing tactics and formations on the training pitch. Unzue, who was reportedly unhappy with Neymar's disagreements with the tactics, told him to "focus on his football".

The conversation became heated from there and Unzue then started to point out flaws in Neymar's game. Unzue and Neymar were said to be engaged in a war of words which almost turned into a physical confrontation and members of the staff were forced to intervene and break the pair up.

While the full extent of the conversation was not revealed, Unzue telling Neymar to "focus on his football" could be a hit at Neymar's frequent showboating on the pitch. Neymar has been criticized this season of prioritizing showboating and entertainment above actual tactics and following instructions.

Neymar has always been critical of those comments and says showboating is part of his game. As such, this training ground spat should not be interpreted more than a coach merely enforcing his views on a player.

The situation concluded with Neymar still remaining unhappy and refusing to speak to Mundo Deportivo. Neither him nor his teammates discussed the training ground bust-up.

The enforcer type role has been a common theme for Unzue, who has also been involved with arguments with Marc-Andre ter Stegen and Ivan Rakitic. Whether this affects his chances of being Barcelona manager next season remains to be seen.