Manchester United target Kasper Dolberg set to remain at Ajax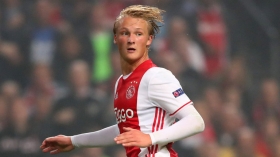 Kasper Dolberg's agent has shed light on the player's future and confirmed that the forward will remain at Ajax for at least one more season.
Dolberg has been a revelation for the young Ajax team this season, scoring 23 goals in 48 appearances. The 19-year-old came up short against Jose Mourinho's side in the Europa League final as the United players were clearly instructed by Portuguese to close down Ajax's main threat.

Mourinho was believed to have already made up his mind about acquiring Dolberg's services even before the Europa League final and used the match as one final opportunity to scout the player.

However, Dolberg's agent, Jens Steffensen, has come on record to speak about his client's future.

He was quoted by the Express in an interview saying: "At the moment there is nothing concrete, there is nothing on paper. Kasper intends to remain at Ajax for another year."

Ajax's qualification into next season's Champions League is believed to be one of the main reasons why Dolberg wants to stay at the club.  

The news will come as a blow to Manchester United who are in the search for a goalscoring midfielder after seeing the team's over-reliance on Zlatan Ibrahimovic for goals. The highest scoring midfielders for United this past season was Juan Mata with 10 goals and Paul Pogba with nine, both of which are less than half of Ibrahimovic's 28 goal tally.