Harry Kane's hat-trick against APOEL brings amazing goalscoring record close to Ronaldo and Messi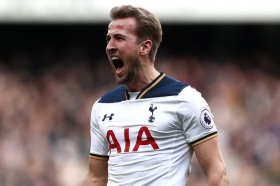 Kane scored yet another hat-trick to fire Spurs past APOEL in the Champions League and his goalscoring record is now comparable to the likes of

Cristiano Ronaldo

and

Lionel Messi

.
The 3-0 scoreline against APOEL did not do justice to the match itself. Spurs played horribly against the team from Cyprus. The hosts had 15 shots to Spurs' 16 and even hit the crossbar in the first-half. Hugo Lloris put in yet another dubious display, as his clearance in the first half ricocheted off his own player and nearly trickled into his own net.

Yet, the 3-0 scoreline did justice to one man - Harry Kane. The forward himself was having a poor game before scoring the first goal but went on to complete a perfect hat-trick - left foot, right foot, and a header. 

Putting Kane's statistics against the likes of Cristiano Ronaldo and Lionel Messi shows he is more impressive than initially thought. 

Ronaldo and Messi have 31 goals and 43 goals respectively in 2017, Kane has 34, albeit Messi playing many more games. To put things further into perspective, West Ham have scored 35 goals this calendar year, just one more than Kane. 

This was also Kane's sixth hat-trick of the year and ninth overall, an incredible record at his age at this high a level. Kane continues to bring his Tottenham side over the line and English fans will have reason to believe that he will surpass the great Alan Shearer.