Thomas Tuchel to be named next PSG manager?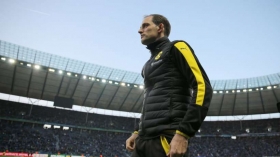 An ESPN report today suggests that Paris Saint-Germain's owner Sheikh Tamim bin Hamad Al Thani has selected

Thomas Tuchel

as the club's next manager. Tuchel is currently out of work, having been released from his duties at Borussia Dortmund over nine months ago.


Unai Emery has failed to deliver what PSG's board covets, a Champions League title, and is now expected to be given the axe at the end of the season despite a likely Ligue 1 success this season. 

Bayern Munich were amongst the teams interested in Tuchel, however, the Bavarian club's president Karl-Heinz Rummenigge has informed the press that Tuchel has already committed his future to another club. Arsenal were rumoured to be amongst the teams interested in Tuchel however it appears that a move to France looks more likely.

PSG were linked with both Carlo Ancelotti and Luis Enrique, but it appears that Tuchel is seen as a more suitable option for the time being. Emery looks likely to be relinquished of his duties at the end of the domestic campaign.